Have you ever read a book that changes the way you see the world? I did this summer. It's called The Inner Game of Tennis and it was required reading for one of my grad classes this fall. The forward was written by someone who might look familiar to many of you.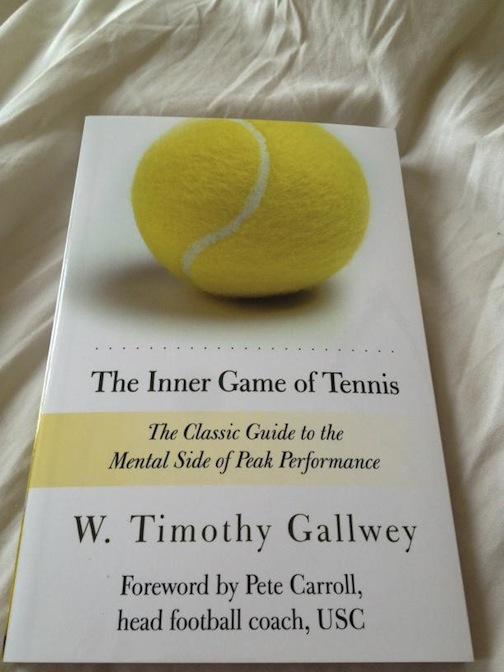 Gallwey was a tennis pro who watched players struggle more with the mental side of their tennis game than they physical side. He realized that once you got your brain cooperating, your body followed suit.
Now, I know nothing about tennis really. It's just not my sport, but I understand every single concept talked about in this book and I see how it applies to everything you undertake in life. Gallwey identifies two parts of yourself: Self 1 and Self 2. Self 1 is the part of you that likes to tell you what to do, and how to do it, and comment on whether or not you did it well. Self 1 tends to get your emotions involved in making judgements. Self 2 is the part of yourself that is attempting to accomplish the task. Self 1 gets in the way of Self 2's ability to get the task done.
The biggest impact this book had on me was the concept of
nonjudgmental observation
, which means observing what you are doing without judging how well you did it. That's really, really hard to do. However, boy does it make a difference in your ability accomplish your goal and to see yourself clearly. I credit much of my triathlon success to being able to see my workouts as they were and not add emotional connections or negative labels to how well I did.
The example that he uses in the book that really stuck with me was the example of a referee. In a tennis match (or any sport for that matter), the referee is looking for errors; however, there is no emotional connection to the error made. There is no scolding or judging of the player who committed the error, and they don't get emotionally involved in how the game is playing out. There is only the acknowledgment of the error and the status of the game. As my darling brother likes to say, "It is what it is." Maybe that's why he is the strongest person mentally that I know??
I was reminded of this book today because I read an article about Ed Hochuli. For the two of you reading this who don't know who he is, he is an NFL referee. But not just any referee, the best and most famous. If you don't know this face, you might recognize the biceps.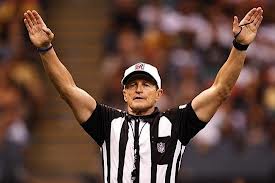 The ref's have been on lockout from the NFL, but after two disastrous games this weekend with the replacement refs, the NFL and the NFLRA have miraculously come to terms. (Don't tell me the Pats-Ravens and Seahawks-Packers game didn't have anything to do with Mr. Goodell. I have eyes. I am intelligent. You cannot pull one over on me.)
One thing that people noticed about the replacement refs was that they seemed to get worse each week. As they got more time on the field, the games seemed to get more out of control and their judgement seemed to be progressively more clouded. The article references something called "stereotype threat." Basically what it means is that everyone is expecting me to do poorly so I better not do poorly, but guess what? You end up doing poorly. They go on to talk about how it does diminish you cognitive abilities because you are consumed with thinking about how you better get it right.
This is textbook Self 1 and Self 2. It's like this situation was written for Gallwey's book. Did the replacement refs have the ability to be successful? Probably. They were given the information and they were somewhat experienced. Were they able to quiet Self 1 enough so they could let Self 2 do the job? Probably not. This also explains why they seemed to get worse with each game. The voice of the media and the fans became the very loud voice of Self 1 telling them that they couldn't get the job done and that they were making mistakes everywhere. Cue their emotions! Then you can't get anything objective done once your emotions start to take hold of your brain. Self 1 clouds your ability to do anything well.
This article talks about how much mental preparation Hochuli and all the other refs put into their game each week. This is the side that no one sees. These refs spend each week watching game tape, studying rules, and playing out game scenario. These things are essential to make sure that they are ready each week.
Hochuli says, "Every time I throw the flag, the player disagrees. What they say about whether they are right or wrong is meaningless to me."
Nonjudgmental observation
. It is what it is no matter how strongly your emotions feel about it being something else. Hochuli and his fiery band of referees would never be able to do as well as they do without the mental capabilities, but more importantly, mental discipline that they practice each week.
Get the book. Read the book. Let it soak in. Then watch Ed Hochuli officiate this weekend. I've never been more appreciative of what those referees do and how well they do it. Welcome back. We've missed you.
Yahoo Article: http://sports.yahoo.com/news/nfl--new-appreciation--replacement-refs-provide-a-glimpse-into-how-good-actual-nfl-officials-are.html