I've thought a lot about Kurt Warner this week. Now I know that sounds weird, but it's true. (I'm a sports nerd and I can't hide it anymore.) I don't think there is any better example of perseverance or humbleness. In case you don't know who Kurt Warner is, let me recap his career in as few words as possible.
Warner played college football, but was undrafted in the 1994 draft. He was given a workout by the Packers, but failed to make the team. They felt he had potential to be a great QB, but just didn't think he was ready. With no job and his dream dashed, Warner got a job stocking at a grocery store. He wanted another opportunity to tryout for an NFL team, but no one was interested. Well that just sucks for Kurt doesn't it? Determined not to let that stop him, he looked to the Arena League. He signed with an Arena League team all the while still pursuing his dream of being an NFL QB. Before the 1997 season, he was finally granted a tryout with the Chicago Bears, but guess what happened? He got hurt. Yep. An injury. So this might be where many of us would give up–not Kurt.
He kept plugging away and was finally signed by the St. Louis Rams for the 1998 season. He spent the year as the third string QB, but was then promoted to backup for the 1999 season. As fate would have it, the first string QB suffered an injury and Warner suddenly became "the guy." Most people know what happens next. He goes on to be named MVP of the 1999 season including leading the Rams to a Superbowl. He has a repeat Super Bowl appearance in 2001 as well as being named league MVP once again. Way to go Kurt. You are nailing it.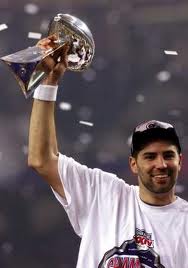 This is a great story, right? Well, it gets better.
Warner struggled in his next few seasons and had an injury that kept him from playing in top form. So, he was released by the Rams. Yep. Two time MVP and Superbowl player. Gone. Just like that.
He should probably have just quit, right? I mean, I probably would have. You've played in two Superbowls. You've been the MVP twice. Let's just call it a day.
But, nope. Not Kurt Warner. He signed with the New York Giants and played pretty well. But, he lost two games in a row and people started to get antsy. Typical New Yorkers. There was this rookie in town called Eli Manning and people were ready to see him play. And I don't blame them. With a name like Manning, you have to be good. Right? RIGHT? Answer me people!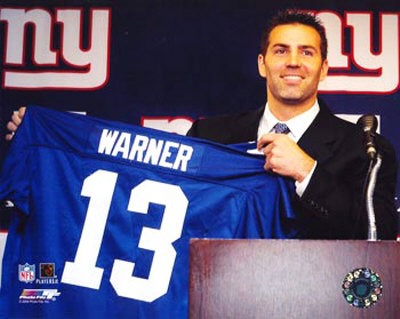 So once again Kurt Warner was out of a job. I think I'd give it up. I mean, people clearly don't want you around, right? My ego would be shattered. How embarrassing to not be wanted! And how horribly humbling this must have been.
Cue the Arizona Cardinals. They signed Warner and thus began a 5 year battle for the starting QB job with rookie Matt Leinart. One year it's Warner, the next it's Leinart, then Leinart's benched for not playing well, then Warner's injured, yadda, yadda, yadda. In 2008 though, Warner was named the starter for the season, and guess what? He led the team to another Superbowl.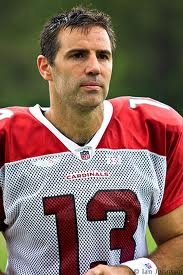 Kurt Warner then retired after the 2009 season with so many records and accolades it would be nonsense to attempt to mention them.
So, why has Kurt Warner been on my mind this week? One word: Disappointment. We all deal with it. Sometimes it's small disappointment like not being able to make it through a triathlon training. Sometimes it's huge disappointments like not getting something that you've worked your ass off for and are deserving of. This is life. This is being an adult. This is where character is built. How are you going to handle the disappointments? Are they going to stop you from pursuing your goal or are you going to be like Kurt Warner and keep going no matter how much it hurts? I choose Kurt Warner.
I've been a Kurt Warner in life for most of my years, and what makes being a Kurt Warner so difficult is that life is full of Peyton Mannings. (Like I said, sports nerd, stay with me here people.) Some people get to be Peyton Manning in life and its just not fair. They come from football royalty, get drafted first overall, play fourteen seasons for one team, become a four time MVP, eleven time pro bowl player, and SuperBowl winner. I hate these people. Seriously. I look at them and think, what do you know about perseverance! I'm a Kurt Warner in life and you're a Peyton Manning! We can't be friends!
But then I have to remind myself, one persons success is not my failure. These people may experience great success in their goals and their life in general, but that doesn't automatically make me a failure. Just because Eli Manning was successful for the Giants, doesn't mean that Kurt Warner was a failure. It just wasn't the right time or place for him.
As I face disappointments in my day to day life, I look to Kurt Warner for inspiration. He knew that he wasn't a failure no matter what anybody said or no matter how successful other players were. When it's all said and done, I'm sure that both Peyton Manning and Kurt Warner will be in the Football Hall of Fame together. Their paths are nothing alike, yet they will both end up in the same place as heroes of the sport.
So, I ask you once again, will you let disappointment stop you from achieving your goals or will you be like Kurt Warner and keep going?
I still choose Kurt Warner.