I love the Olympics. I mean seriously love the Olympics. I will watch any sport and cry anytime the US wins the gold. I'm an Olympic addict. I can't wait to watch the triathlon competition since this is my newest endeavor. Those triathletes are inspiring and unbelievable. Last night, the Women's Gymnastics tore me apart as it did many people. So much hard work put in by all the ladies and I would love to see them all compete. But alas, it can't happen. Today there has been video floating around the magical interweb of Aly Raisman's parents watching her compete last night. In case you are the one person who missed it, here's the video below.
The most common reaction that I've seen to this video is "I can't wait to see SNL spoof this video" and "Kristen Wiig would be amazing doing a spoof of this!" While, I do agree that both of these things would be hysterical and will probably happen, I can't help but watch this video and empathize with what they are going through. I'm not a mother and have never had a family member compete in the Olympics, but as the sister of a professional athlete, I can definitely relate to their experience.
I have watched my brother play football (and not play football) more times than I can count on all my fingers and toes. I don't miss a single game whether he is playing or not. There really isn't a way to accurately describe what it's like to watch someone you love and have grown up with go out and compete at such a high level. I mean, I remember my dad and stepmom deciding to name him Matthew, and I remember him coming home from the hospital all pink with black hair looking like a little rat. I am so proud of Matt and all of his accomplishments. I burst with pride on a daily basis. If I could wear a flashing sign everyday telling everyone about how amazing and talented my brother is, I would. But, this would embarrass both Matt and my boyfriend Rob who would have to been seen with me wearing said flashing sign, so I don't. My brother has worked incredibly hard for all of his achievements and he deserves every single good thing that has come his way and will come his way in the future. He's kind, generous, humble, and was born to be an NFL Quarterback. But, enough about how much I love my brother…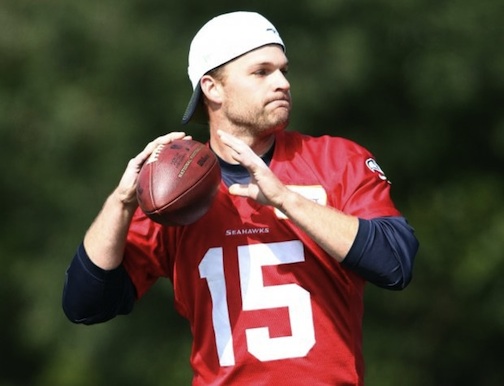 Now, imagine that object of pride and love going onto a football field where there are 11 big, strong, angry men trying to squish him to the ground flat. Imagine that object of pride and love having the game rest on his shoulders, for better or for worse. Imagine that object of pride and love getting the praise when things go well, and subsequently getting the blame when things don't work out, no matter who's fault it was. Watching Matt play football is one of the most full body and emotional experiences that I have. When I watch at home, I'm up, I'm down, I'm hiding behind a pillow, I'm screaming, I'm crying, I'm throwing things, I'm cursing at the tv, I pausing to look at close ups of my brother and take a picture because I still think it's cool that he's on tv, I'm screaming more. I stand with every long pass he makes as if the energy of my standing will help the pass get to where it needs to go. Everyone in my family goes through a similar experience as we watch him play. We all keep thinking "just stay safe and play well."
I thought I'd share some of my favorite pictures of my family watching Matt play so you can see that all athlete's family members go through a similar journey. Matt's first start in college was his Sophomore year at the Peach Bowl in Atlanta for the injured Jamarcus Russell. My dad, brother, and I were clearly enjoying ourselves.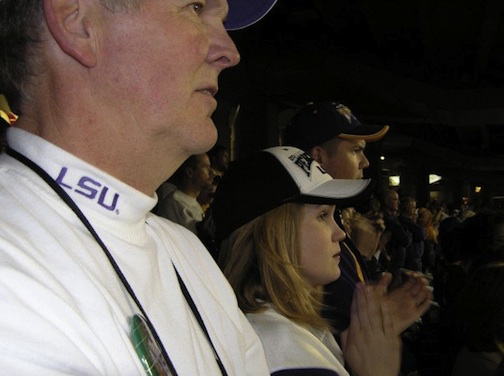 Things worked out well though. They won and he was the MVP.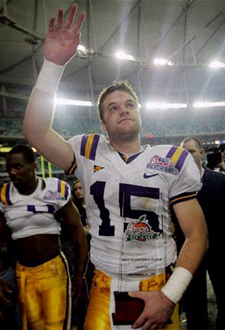 I went to go visit my brother his senior year of college and watched him play against Auburn.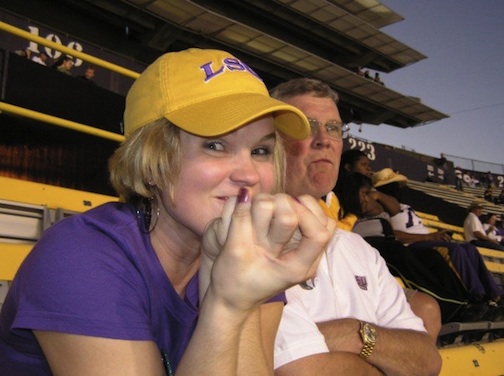 We were both nervous, but once again, it worked out. In case you missed it, here was the winning touchdown. I nearly crapped my pants.
Then came the National Championship. Oh boy. We all descended on New Orleans and tried to remain as calm as possible.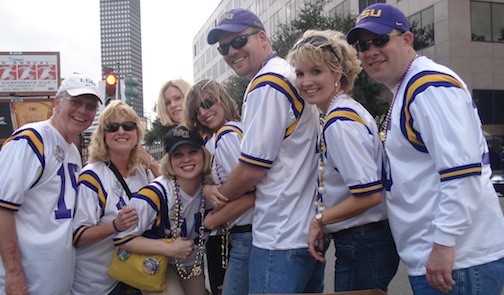 Then it was game time and here came the serious nerves. That's one of Matt's best friends Tom biting his nails.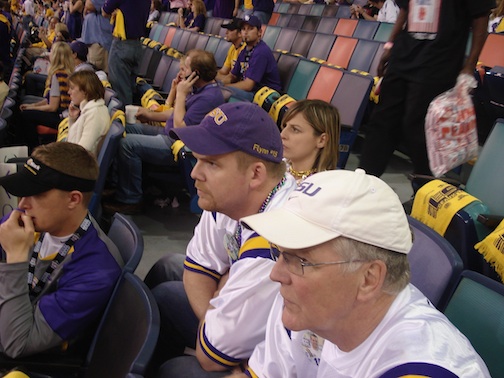 This is Mamma Roo in a rare moment of actually watching the game. She tends to watch much of the games with her hands over her eyes. I even caught her on the ground with her head between her knees once. I can only imagine what it's like for her.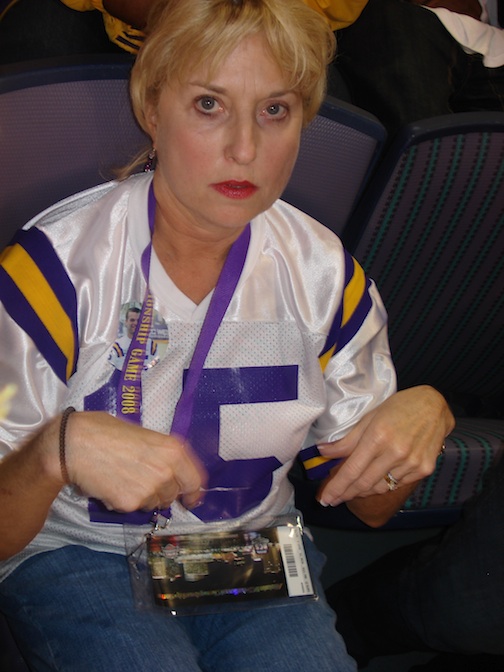 But, it all turned out ok.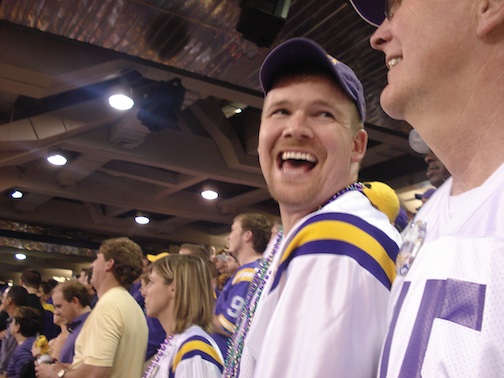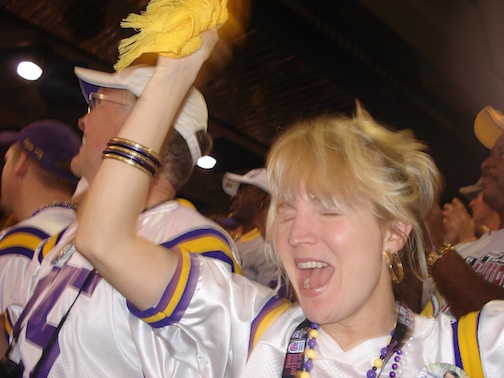 Matt made his first NFL start in New England in December 2010 and my dad, stepmom, brother and I were all present. We knew that NBC would be filming us. When we got to our seats, we had black tape on the bottom of our seats. They had clearly been practicing filming where we were going to be sitting. I'm sure that Aly Raisman's parents arrived to tape marked seats yesterday. We made an agreement with each other to stay calm and not look too panicked since we knew that NBC would be on the lookout for us. I think we did ok.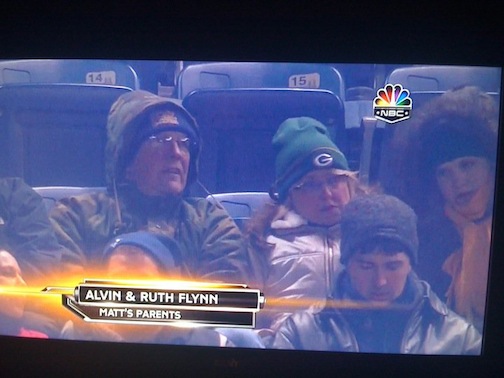 My friends teased me and said that I was talking to my stepmom every time the camera was on me. What? I talk a lot. Can you tell?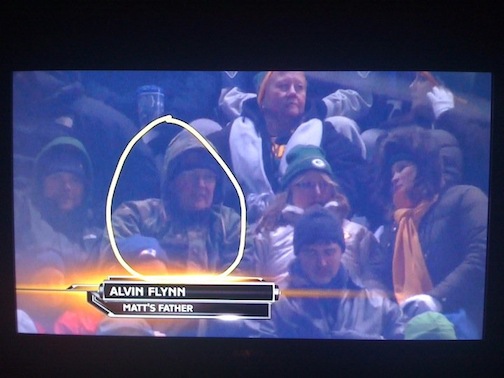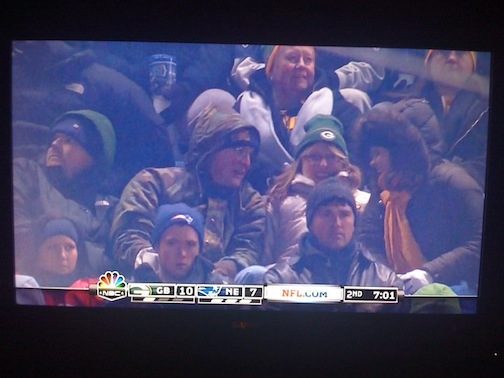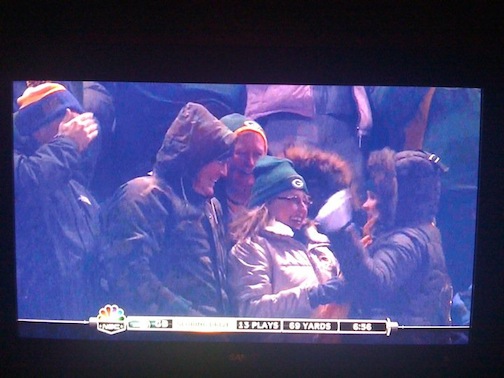 So, Mr. and Mrs. Raisman, I feel you. I can relate to what it's like to put your love and energy into someone you love while they are doing what they do. I say, talk, lean, cheer, scream, wiggle, squirm and love all you want. It's a beautiful thing.