I returned to NYC Monday after a jam packed weekend in Atlanta with 4,000 of my closest middle school aged friends. The Junior Theatre Festival is such a wonderful experience and I'm so honored that I get to be a part of it every year. JTF is organized by the good people of iTheatrics and Atlanta TUTS. Sponsors include Disney and MTI and the festival is the largest of its kind celebrating both musical theatre and kids.
The weekend kicks off on Friday with all the groups from around the country arriving and registering. After a Friday night reception where all the directors, workshop leaders, staff, and adjudicators get to mingle with each other, the festival officially gets started on Saturday morning with the adjudication process.
The festival is not about competition. Groups don't come there to compete, but simply to present 15 minutes of their Broadway JR. work and receive feedback from Broadway and theatre professionals. It's such a great opportunity to present a smattering of the show you've been working so hard on and get real feedback that will help celebrate your successes and help you improve where you need it. It's such a rewarding experience for the kids and directors. It's also great to see students who excel singled out. Kids that are great dancers are invited to audition for the Choreography DVD's that are included with every Broadway JR. Director's Guide. Kids that stand out as being a great part of their team get to be All Stars and learn a number just for them to present at the final awards ceremony. There are even awards for stand outs in acting, dancing, music, and ensemble work. The groups that receive the highest adjudication marks are also presented with the opportunity to perform in the final awards ceremony.
I like the label this weekend "Stop Crying You're Just Making A Fool Of Yourself" weekend. Seriously. From the second I walked into the theater on Friday morning and saw a group rehearsing Hairspray JR. for the New Works Showcase, I was done. I had tears in my eyes and goosebumps all down my arm and spine. I'm a sucker for kids who can perform well, and I'm even more of a sucker for kids who can't perform well but are living their life on stage like there is no tomorrow. Needless to say, there was tons of both categories everywhere this weekend.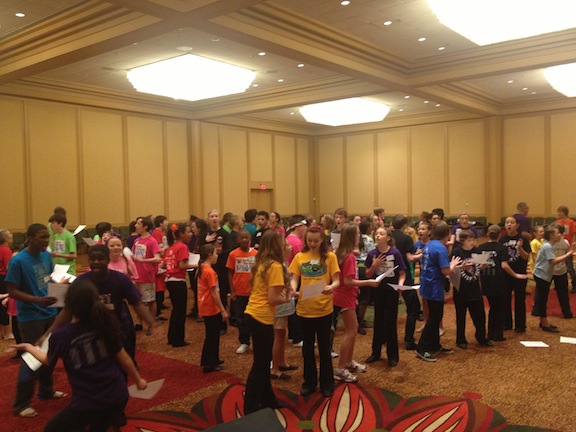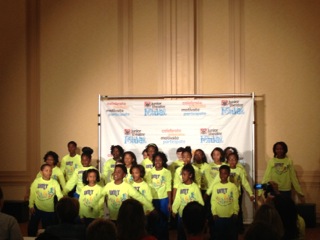 I was lucky enough to be a discussion group leader, which is the person that takes a group into a discussion right after they finish their adjudication. It was such a rewarding experience. It was amazing getting to lead the kids in a discussion about how they were feeling about the whole process, why they felt that way, and how they were going to implement the adjudicators notes into their show. Kids are smart and sometimes I think we don't give them enough credit. They can handle constructive criticism and they can handle pressure. All the kids that I got to chat with were lovely and well rounded. I also taught Advanced Acting classes on Saturday afternoon and had a blast. These kids are really special.

The kids at JTF are given so many fabulous opportunities. They had a Q&A with cast members from Newsies as well as the Pathways to Success chat where former JTF students who now have successful performing careers come back to talk about their success. Alan Menken was given the JTF Award and was so honored. Afterwards he was placed on a chair and given a surprise performance of "Be Our Guest" by a huge group of kids. I wish everyone in the world could have been there to see the look of surprise and tears on Alan's face. I cried too, not that that was anything new by this point.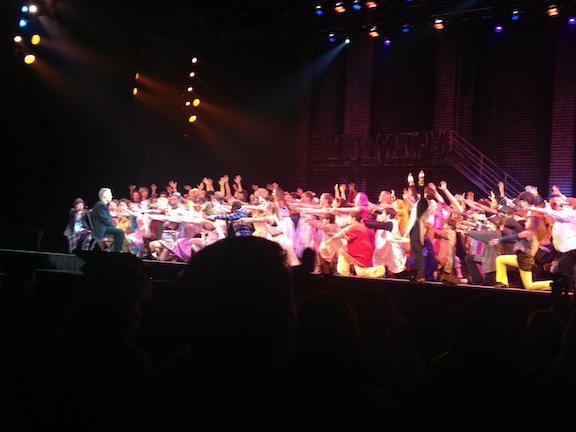 We were even introduced to 9 year old Eli from Marietta, GA who spearheaded a fundraising effort at his school for Sandy victims in East Rockaway. Eli's school raised $12,000 for the schools and was the cutest little peanut I've ever seen. And yes, I cried when they showed the video that he made about raising money. And don't forget when he said that his favorite fundraising activity was making Origami. Yep. He raised $98 by making and selling Origami. SOMEBODY BRING ME THIS CHILD!!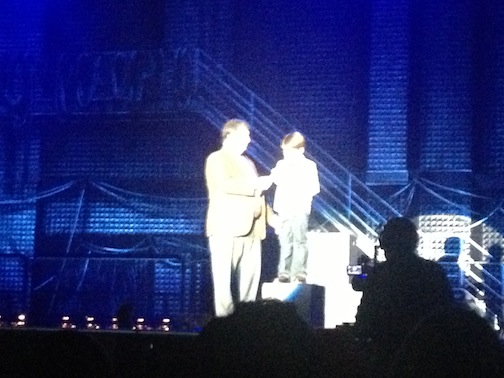 The Junior Theatre Festival is so special and I'm so honored to be a part of it every year. There is no way to accurately capture what it's like in that giant convention center turned theatre when everyone is there. The festival ended with "Seasons of Love" sung by everyone. (click to watch) It was a spectacular way to end the weekend. I'm looking forward to next year!!